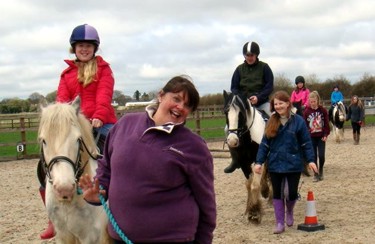 We welcome all standards of riders, from beginners to advanced, at Andover Riding School and offer a range of lessons to suit. Our introductory assessment lessons are half price (only £13.00) and aim to lay the foundations for future lessons with our team of instructors at the school. You can always take advantage of our range of offers and you can book over the phone or via email. Or maybe even drop in, have a look at our facilities and then book in person. Visitors are always welcome.
Lessons are given in our new all-weather sand and fibre arena and, first and foremost, all pupils are taught to mount and dismount safely as part of their first lesson. We go onto provide lessons for the complete range of ages and abilities, all given by our friendly and experienced instructors who always welcome the nervous rider who needs to progress at their own pace.
We are proud of our confidence giving horses and ponies, keeping them fit, heathly and most importantly happy.
BEGINNER RIDERS
All beginner riders (children and adults) will start with 1/2hr private lessons to learn the basics of riding and to build up their riding confidence safely, all done on a lead rein or lunge line.
This will then progress on to a suitable group lesson of the same standard (if they wish).
PONY DAYS
Pony Days run from 9.30am-3.00pm and are fantastic for giving a rider the chance to "Own" a pony for a day. There is a packed day of fun including a 1hr riding lesson plus learn how to groom, tack up, feed, stable work and much, much more.
It also features gymkhana games or an optional 1hr ride out in our fields. Finally to round off the day there is a quiz. So bring a packed lunch and stay all day.
A FEW RULES
Riding Attire: All riders must wear a riding hat that complies with the current B.H.S. Standards (the Riding School provides new riders an appropriate riding hat free of charge). All riders must wear suitable footwear with a suitable heel and sole.
Weight Limit: There is a strict 13 stone weight limit for riders.
Assessment Forms: New riders should arrive 15 mins before the start of their lesson so that the appropriate Assessment Form can be completed.
Cancellation Policy: You should give the Riding School a minimum of 48 hrs notice if you want to change or cancel your booking. Failure to give the appropriate notice with incur a charge equivalent to 50% of the lesson cost and block bookings will lose one of their bookings.