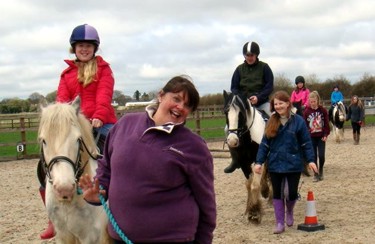 We welcome all standards of riders, from beginners to those that are competent and secure in canter, at Andover Riding School and offer a range of lessons to suit. Our introductory assessment lessons aim to lay the foundations for future lessons with our team of instructors at the school and you can book over the phone or via email.
Lessons are given in our new all-weather sand and fibre arena and, first and foremost, all pupils are taught to mount and dismount safely as part of their first lesson. We go onto provide lessons for the complete range of ages and abilities, all given by our friendly and experienced instructors who always welcome the nervous rider who needs to progress at their own pace.
We are proud of our confidence giving horses and ponies, keeping them fit, heathly and most importantly happy.
BEGINNER RIDERS
All beginner riders (children and adults) will start with 1/2hr private lessons to learn the basics of riding and to build up their riding confidence safely, all done on a lead rein.
This will then progress on to a suitable group lesson of the same standard (if they wish) and also according to availability.
GROOMING SESSIONS
If there is more than one person grooming in a groomiing session, the second person and each person after that, is ONLY charged £17.00 per person.
BOOKING TERMS & CONDITIONS
1. Riding is a risk sport and holds potential danger, and that all horses may react unpredictably on occasions.
2. We advise all persons participating in any equestrian activity to ensure they have adequate personal accident insurance.
3. We allocate horses to riders taking into account experience and suitability; however all riders retain the right not to ride a horse allotted to them. Andover Riding School reserves the right to make changes to the lessons or instructors, including cancellations if necessary. In every circumstance we will endeavour to notify clients of such changes.
4. All clients must NOT mount their horse or pony without an instructor present.
5. Clients are requested to inform Andover Riding School of any alteration to information provided.
6. Recommended clothing is full length trousers (not jeans) and boots with a suitable heel and sole. NO shorts or 3/4 length trousers, NO trainers and NO strappy tops.
7. All riders must wear a riding hat that complies with the current B.H.S. Standards
8. The Riding School provides new riders an appropriate riding hat free of charge although after six (6) lessons we recommend that clients buy their own helmet, compliant with current B.H.S standards, that is supplied and fitted by a qualified company or person.
9. To stay in line with current regulations for the welfare of horses, from the 1st July 2021 we will have a strict weight limit of 12 stone for riders, applying to new AND exisiting clients. There will be ad hoc weigh ins to ensure this limit is followed.
10. New riders should arrive 15 mins before the start of their lesson so that the appropriate Assessment Form can be completed.
11. We reserve the right to refuse a rider for their lesson if we deem that, in the interests of health and safety, it would not be suitable for the rider to have their lesson and a charge of 50% of their booked lesson will be incurred.
12. You should give the Riding School a minimum of 48 hrs notice if you want to change or cancel your booking. Failure to give the appropriate notice with incur a charge equivalent to 100% of the lesson cost.
13. Customers who have booked in advance or who have an ongoing booked slot but then do not arrive for thier booking twice in a row, without giving the riding school the required 48 hours cancelation notice for the relevant booking and getting acknowledgment from us that the cancellation has been received, and who have not made prior payment for the booking, will be automatically removed from all future bookings to ensure efficient running of the riding schoo.
14. We may in certain instances request pre-payment of lessons before we can confirm a lesson booking.
CORONAVIRUS (COVID-19) REGULATIONS
- Social distancing rules will apply on the yard and at the office at all times.
- On arrival only one person to be in the office at one anytime, please keep your time in the office to a minimum. Bookings can also be made by email or phone 01264 773533.
- Only the rider and ONE accompanying person to enter the yard.
- Hand sanatisers will be available for your use.
- All customers are responsible for their own PPE.
- When the lesson is over please vacate the yard as soon as possible (observing social distancing rules}.
- Please follow the Coronavirus signage guideance at the riding school.
We thank you for your co-operation which is, after all, for everyones safety.